Greetings to all.
I'm a casual swimmer (two to three times a week) and enjoy wearing speedos/swim briefs to work out in. I own a lot of them, but primarily swim in Speedo brand solar bikinis, currently.
I'm also an avid brief wearer (for underwear) as my name would suggest. I don't have any pics of me in a speedo (yet) but tons of me in my undies: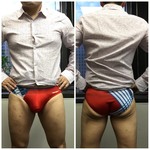 Look forward to meeting and chatting with everyone.